Cubesats

Description:
Cubesats are miniature satellites that are used in space research, its frames are created from aluminum. Cubesats are built at a small amount, highly customized and are costly. So after this, additive manufacturing is the most acceptable way of production for custom-made production of cubesats as it also allows for increased complexity, lighter materials and strength optimization without cost increase.
Challenges:
They are high-priced when launching into lower-earth-orbit and also bring expensive payloads.
There must be careful caution to make sure that the cubesats work as expected and does not give negative influence to other cubesats or hardware during launch or in space.
The main challenge will be to make sure that the cubesat fulfills all the design specifications.
Solutions: 
We here at Orion have developed a proprietary solution for 3D printing with aerospace-grade polymers like PEEK.
The process, which utilizes thermal radiation, is already able to print PEEK with a very high degree of inter-layer bonding comparable to injection molding strength.
The process is also capable of producing parts with high density and low porosity, making it a potentially suitable process for parts in vacuum or space where low out-gassing is required.
                                      Figure N°1 - AMCUBE Rendering-OAM
AM-Product
Description:
The AMCUBE is a cube sized picosatellite measuring 10 cm x 10 cm, often mentioned by name as a cubesat, that will be produced from PEEK using our own proprietary additive manufacturing process. The AMCUBE project will seek to replace the aluminum structure of the cubesat with PEEK, an aerospace-grade polymer that is half of the weight of aluminum but just as strong. The project will try to lessen the number of parts and combine components to better the assembly and robustness of the product.
Technical Challenge:
The main challenge is making certain that the AM produced cubesat frame will fulfill application requirements for its application. For this we will turn to the Cubesat Design Specification document provided by California Polytechnic State University, adding in also communicating directly with local aerospace companies involved with cubesat manufacturing.
Implementation Plan:
The AMCUBE project will set out to rework an existing aluminum cubesat frame to be created from PEEK using our AM's technology. Test specimens will be built also to understand if the process and material meet the design specifications for strength, porosity and out-gassing.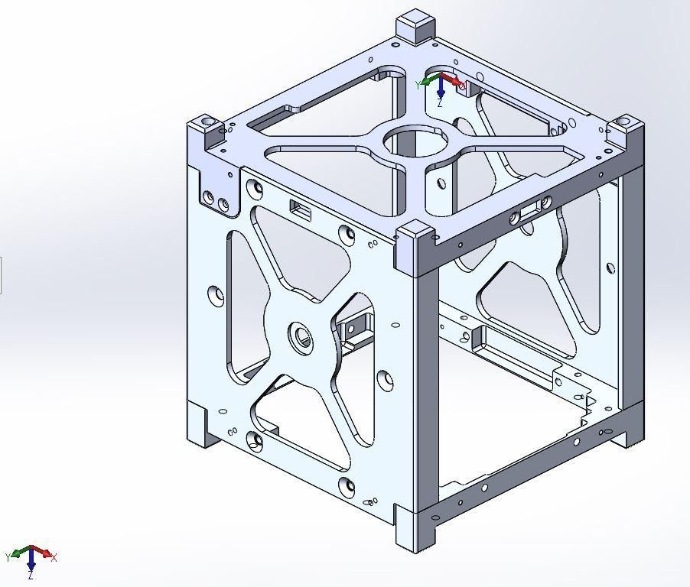 Figure N° 2 Current Cubesat design manufactured in aluminum using traditional CNC machining methods.

AM-based product
Description:
One of the main goals in the AMCUBE project is to lower in general the weight of the cubesat frame by at least 25%. Another goal is to better the lead time of the cubesat frame. The current cubesat frame is created using laser cut aluminum, which is then bent and then milled on a CNC milling machine to fabricate all the necessary features.
Cost
The cubesat will be printed in 3 or 4 parts and assembled together using mechanical fasteners. PEEK, being an aerospace grade polymer, will help reduce the weight of the cubesat and thus reduce costs. It is estimated that the total cost to produce a standard aluminum cubesat frame is around 1.000EUR and that the cost to produce 1 AMCUBE PEEK cubesat frame will be around 800EUR, including materials, labor and energy costs, hence a 20% reduction in cost. 
According to an article on Springer Link, a cost of 40-50kUSD/kg is expected to launch PocketQubes, which is a type of miniaturized satellite for space research that typically has a size of 5 cm cubed (one eighth the size of a CubeSat) into space. With every kg Orion takes off a cubesat lowers the chance of massive cost.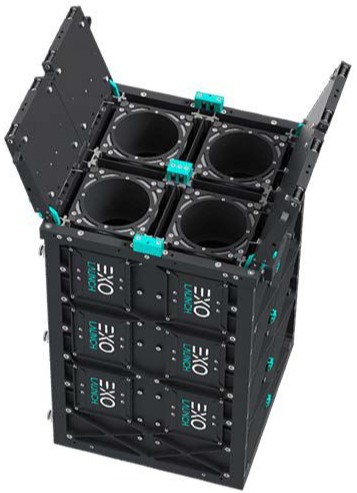 Figure N° 3 - EXOLAUNCH Cubesat launcher.