A150 Series
by Orion AM
An advanced industrial additive manufacturing system
for 3D printing high-performance polymers
with Thermal Radiation Heating
to achieve superior strength.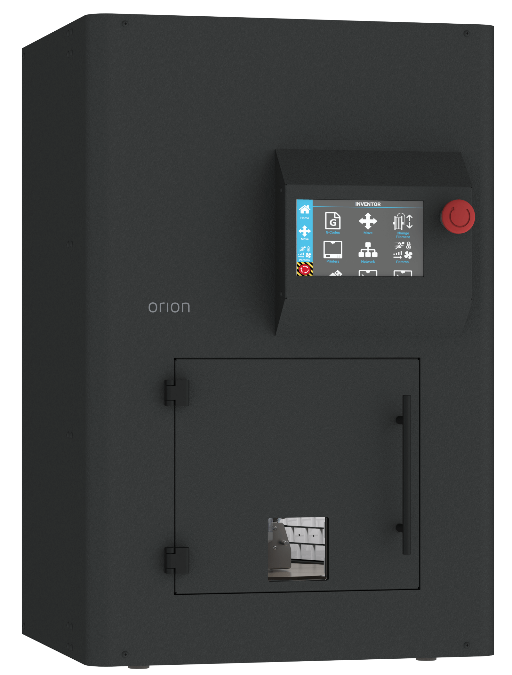 Discover
The Orion AM A-Series
An Industrial Additive Manufacturing System for 3D printing with high-performance polymers like PEEK, ULTEM and PPSU. The process utilizes the patent-pending Thermal Radiation Heating Technology developed by Orion AM to fuse the printed layers together. This results in industrial grade parts with nearly injection molding strength.
Tensile strength PEEK
Study - Z orientation
High temperature
Orion AM's technology efficiently heats the print from all directions up to 300 °C, thus increasing the inter-layer bonding and improving mechanical strength.

High Performance
Engineered for Industrial Additive Manufacturing of parts with high performance polymers like PEEK, ULTEM, PPSU and more.

High Strength
Orion's patent pending Thermal Radiation Heating technology enhances interlayer bonding at least 5x, achieving more uniform strength.
Reduce cost
Print up to 8x faster with less machinery, lower operating time and lower capital investment. Reduce waste and operating costs by 95% compared to SLS.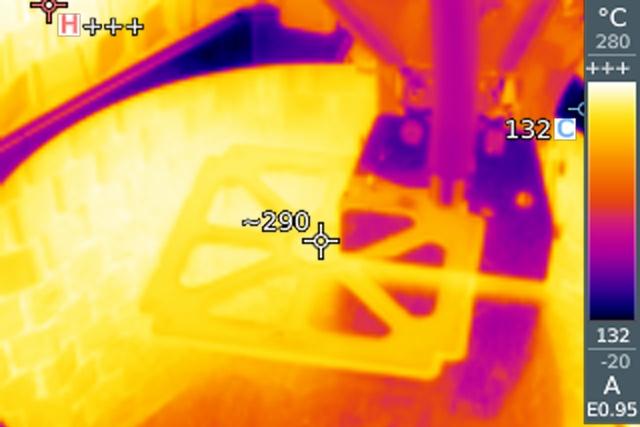 A new approach to AM
Overview
Fused Filament Fabrication (FFF) suffers from weak interlayer bonding, delamination and warping because the material cools down after being deposited. A heated chamber usually heats the air, but Orion AM's Thermal Radiation Heating heats the material!
Benefits
With Thermal Radiation the heat penetrates through the material, allowing the layers to truly fuse together. This results in parts that are more uniform in strength, more dense and stronger.
Results
Orion's technology resolves the anisotropic nature of FFF 3D printing, even for difficult to print aerospace-grade materials like PEEK and PEI. This results in nearly isotropic properties.
Without Thermal Radiation Heating


Visible Layers
Porous Structures
Poor Interlayer Bonding
Low Strength, Anisotropic
Suitable for Prototypes only!
With Thermal Radiation Heating


No Visible Layers
Dense, Homogenous Structures
Good Interlayer Bonding
High Strength, Isotropic
Suitable for End-Use Production Parts!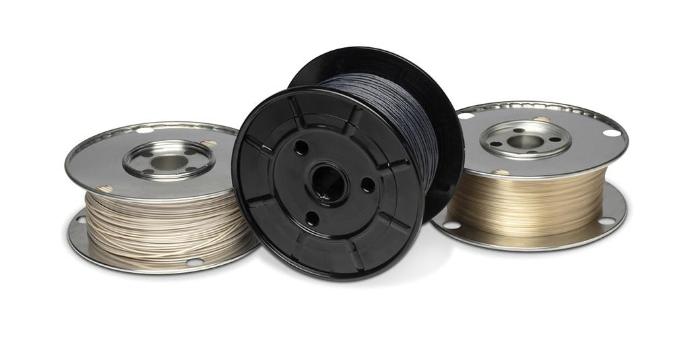 Designed for Advanced Materials
The Orion A150 is capable of 3D printing a
wide range of materials.
Moreover, our technology is specialized in
3D printing with
high-performance polymers
such as PEEK, PAEK, PEKK, PEI, ULTEM1010, PPSU and PC.
These high-performance polymers are known for retaining their desirable mechanical, thermal, and chemical properties when subjected to harsh environments such as high temperature, high pressure and corrosive chemicals.
Our Patent-Pending Thermal Radiation Heating technology gives you the most out of these advanced materials by thermally welding the printed layers together, making them more durable and usable as end-use parts.

Technical Specifications
PRINTING


Build Volume:
180mm diameter x 150mm high
Nozzle diameter(s):
0.10mm - 0.40mm
Layer Height:
20μm - 400μm
Print Speed:
10mm/s - 400mm/s
Technology:
FFF - Thermal Radiation Fusion
Extruder Max Temp:
500°C
Bed Max Temp:
300°C
TRH* Max Temp:
315°C Chamber Temperature, 370°C Layer Heater Temperature
Filament Diameter:
1.75mm
Materials:
PEEK, PAEK, PEKK, PEI, ULTEM1010, ULTEM9085, ABS, PC, PA6, PA12, PPSF/PPSU
*TRH (Thermal Radiation Heating) involves using thermal radiation in all directions to efficiently heat the printed object up to 300°C
CONNECTIVITY


WiFi:
✓
Ethernet:
✓
USB type B:
✓
USB stick:
✓
HARDWARE


Display:
7" capacitive touchscreen display
Overall Dimensions:
570mm x 550mm x 830mm
Weight:
50kg
Motion Kinematics:
Delta 3-Axis platform
Voltage:
380 - 440V AC
Power consumption:
5kW Peak / 1kW Nominal
For more information, download our A150 brochure